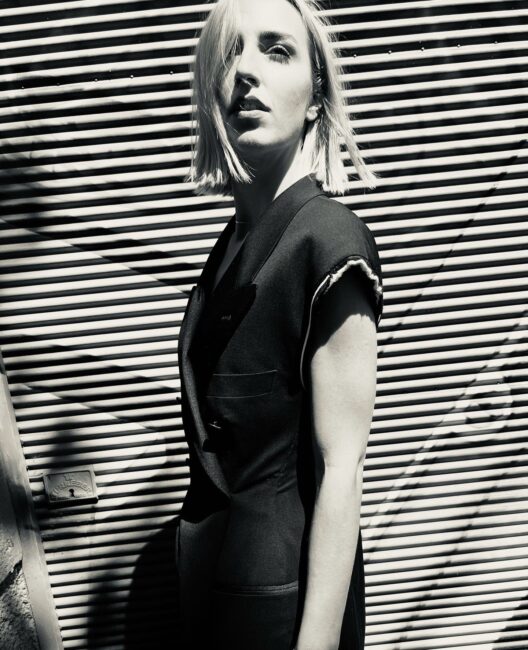 12.09.2023 / 18:00
PRESENTED BY
VIENNA BUSINESS AGENCY
SHOPPING AREA

@ VIENNA FASHION WEEK


13.09-16.09.2023
SchnittBOGEN
Gumpendorfer U-Bahnbogen 3-4
1060 Vienna
Austria
Picture Credit © Roman Strazanec
The collection "retailored" is the essence of my lifelong experience with clothing, both private and professional. 
It reflects all the values that are important to me in the context:
handpicked unique pieces with history

regional production

solid craftsmanship

high quality workmanship

timeless design and form language limited to the essentials 

graphic patterns

stylish elegance

pragmatic demand for protection, comfort and function

high-quality materials from existing resources 
Menswear from British and American heritage fulfills my criteria almost ideally. I work with handpicked second hand garments as the raw material basis of my designs. This corresponds to my understanding of chic, because understated chic demands patina. The simple design of suit and shirt suits my aesthetic very well. It is modern because it is not fashionable. The design language of classic menswear has subtle sex appeal while not necessarily delivering to the gaze. The appearance is uncomplicated and does not push itself to the fore. The need for protection of the body through clothing, is optimally guaranteed. A self-confident and powerful appearance, not only for the formal occasion. I design for ladies as well as for men – "crossdressing" is expressly desired. The used garments are cleaned, deconstructed and elaborately reconstructed in new silhouette using couture techniques. As a result, the design and materials are refreshed and refined and can undergo a second period of use.
Dont'produce – deconstruct and reuse!